Social media apps seem easy to use, but sometimes we are confused about how to tackle their analytics. If we properly know that how to use their analytics, so we can definitely go pro in the social media apps.
In this blog, you'll be going to learn what does impressions mean on Instagram, what does engagement mean on Instagram, and how to increase impressions on Instagram, so we make sure that you'll use Instagram analytics easily, and the algorithms will obviously work in your favor.
So, let's dive into what does impressions and engagement mean on instagram!
What Does Impressions Mean on Instagram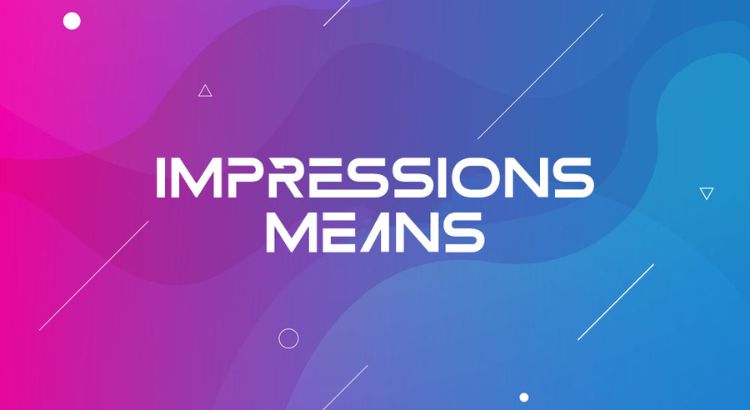 Whatever the content and ads you post on Instagram, they are of high worth. It should be attractive; the reason is that the more your content or campaign becomes attractive the more your Instagram audience will attract from it.
Related Post: How to Deactivate Instagram on iPhone
Instagram impressions mean "the total number of times your ads, post or content was shown to users". Majority people have confusion in impression and reach. Basically, Reach on Instagram mean that "how many unique users saw your content or post" while impression on Instagram mean that "how many times your post or content was shown to a single user"
Here I give some examples that will definitely clear all your confusions regarding impression and reach on Instagram.
So here we go!
Reach means that the number of unique users saw your post or content. This metric measures the unique users who see your post
Impression means that if a single user returns to your post 10 times, so your post would technically count as 10 impressions. This metric doesn't measure unique users
What Does Engagement Mean on Instagram
Engagement on Instagram means that "the user interacts with your content through likes, comments, save, shares, link clicks and mentions".
If you're a brand creator and run your business, so engagement is everything that how much you're in touch with your audience, so don't omit this metric because it's worth a lot.
Why Engagement Matters on Instagram?
Do you have an idea of what tells Instagram how much your content or post is valuable or not? It's actually the amount of engagement you receive on your post or campaign. It depends on how much your post works on social platforms and how many people are interested in your post.
If you're a creator of any post a content, and you'll receive a lot of likes, comments, shares and save through engagement that aware Instagram that your content is incredibly valuable, so they're show your post to other peoples, then you're going to rank in hashtags and how many random users come across your post or content.
As Instagram becomes more competitive, so it's extremely difficult to grow here. But it's only possible due to the number of engagements you get from the users. That's the reason that engagement matters a lot on Instagram because the level of your engagement tells the Instagram that how much people love and like your post.
How to Increase Impressions on Instagram
If you guys want to increase impressions on Instagram of your upcoming brand and business, so read these useful tips and follow them. Then, you'll obviously boost your Instagram impressions successfully.
Always Use New Hashtags
First tip is to boost your Instagram impression by always using new hashtags. From using new hashtags every time, your post will introduce with new audience and that audience will start to engage with your post and this will increase the chances of getting more impressions on Instagram.
Hashtags play an important role in your post. It's a little bit confusing which hashtags should we use in our post, so let's clear the confusion!
Keep these hashtags categories in your mind during post:
Location hashtags are used for cities, countries, places and neighborhoods
Branded hashtags are used for events, campaigns and your brand
Industry hashtag is for your business niche
Community hashtag is for a specific groups of people
Descriptive hashtags are used for the content of your real post
Ask Any Question in the Caption
Try to ask a question which is relevant to your post. This question will insist the audience to comment on your post and if the audience gives the answer to the question, so it can help you to increase your Instagram impressions.
Post at the Instagram Peak Time
Posting at the Instagram peak time, will help you to get a larger audience reach, and you automatically boost your Instagram impressions. You just have to check and note the timings of your followers that when they are mostly active. Then post your ads or contents.
Use Instagram Ads in the Post
If you're working with Instagram ads, so it will help you to reach more audience, and then you're able to get your account in front of more new people, so use the related keywords while creating the ad and target an ideal audience.
Like, Comment and Share on Another Posts
Like, comment and share on other people's posts will not only boost other's Instagram impressions, but it will also increase your own metric too. Because if you like, comment and share on new people's posts, so it will encourage them. Conversation on comments build the relation among other Instagram users and these all of your actions can help to increase your Instagram impressions.
Use Clear and Attractive Images
Before uploading your post, make sure that the image of your post, ad or content should be clear. Ensure that your audience can see the post clearly. Remember that, the more your followers will like your post, the more you'll get the chances to increase your Instagram impressions.
FAQs
What does impressions mean on ig?
Impressions mean on Instagram that how many times your content or post was shown to users. If your post shows to the same person 20 times, so your impressions count as 20.
How to see impressions on Instagram?
Go to your profile and click the insights action button. Tap the metric under the content or post you've shared for more detailed description.
How to see impressions from hashtags on Instagram?
You just have to see under the impression metric, then you'll find 'from hashtags' which tells you that how many users found your post or content by the hashtags you used.