As a SEO expert, blogger, webmaster and student have you ever thought about your easiness of work, saving of time and energy and error free work? So, all your problems will be solved due to only one best tool, PrePostSEO.
But not all the users' opinions are the same about Prepostseo so here you will get a complete information about this then you will feel free to decide how much it is beneficial or not!
What is PrePostSEO?
PrePostSEO is one of the top free online tool sets that helps writers, SEO experts and webmasters to solve their SEO issues by its 75+ online tools. You can use those tools totally free and also you can purchase premium packages.
The purpose of this tool is to provide assistance in writing original material, whether it be for blogs, websites, or search engines. It is the best way for writers, Businesses and anyone who wants to improve their writing skills and want to rank on google.
Does PrePostSEO Save Your Work?
Everybody anxiously thinks that their work is save or not!
On this tool all your work is save. If you check any content and do work on any tool, it will be 100% safe and secure because it doesn't save the content in any of its repository.
Benefits of PrePostSEO
There are various incredulous benefits of PREPOSTSEO. As you know that its super amazing tools and their features are quite helpful for the users. Here are some benefits of this tool.
• It is easy to use and gives quick results.
• It gives step-by-step guidance to the users about every tool and their features.
• Provide best SEO solutions to the users.
• You can operate this tools in different languages like Spanish, French etc.
• The tools are free to use but you can purchase premium plans also.
• It helps you to check if the content is plagiarized or not.
• Its speciality is that you don't need to log in anywhere you can use it on Google easily
• It helps you to correct the grammatical mistakes
• It helps you to create unique content.
• There is no particular limit of time you can use it whenever you want.
Uses of PrePostSEO's Tools
The software of these tools depends upon your requirements. Here are the guidelines on how you can use these tools.
Plagiarism Checker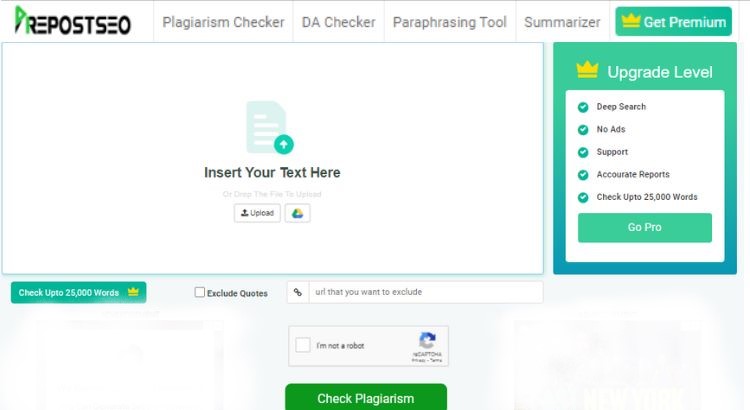 To use this tool all you have to do is copy and paste your content in the given box and then click on "Check plagiarism".
Article Rewriter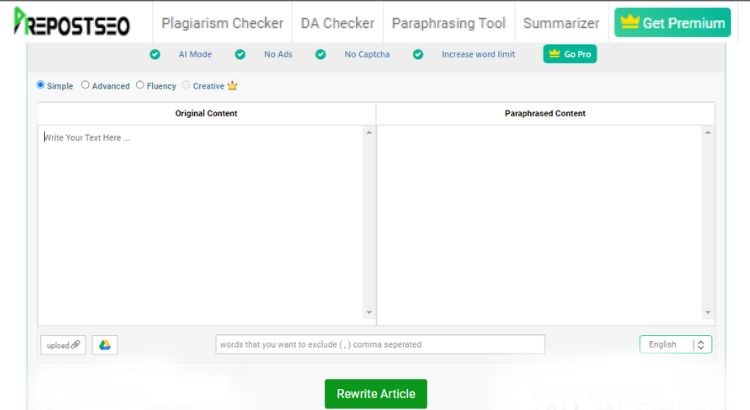 You just enter the text in the box or click on the "Upload your file" button and choose your file which you want to check and then click on "Rewrite article".
Paraphrasing Tool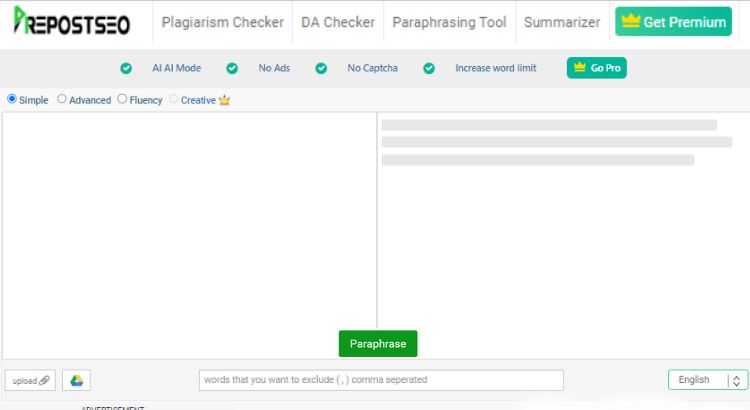 This tool is very easy to use. Just copy and paste the content in the box which you want to paraphrase and then click on "Paraphrase".
Grammar Checker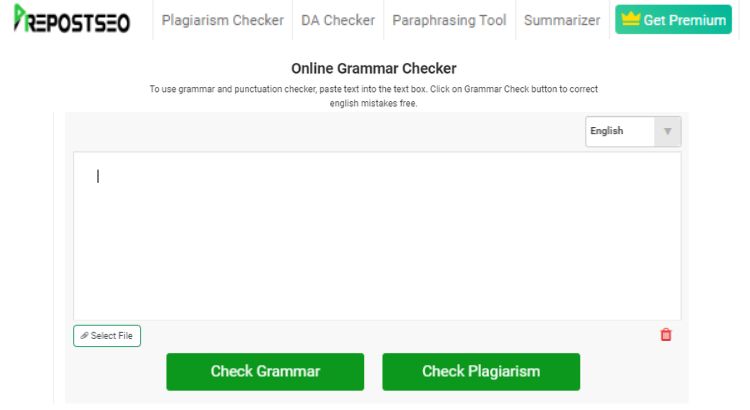 All you have to do is to select the file or copy and paste the content in the box and then click on "Check grammar".
Text Summarizer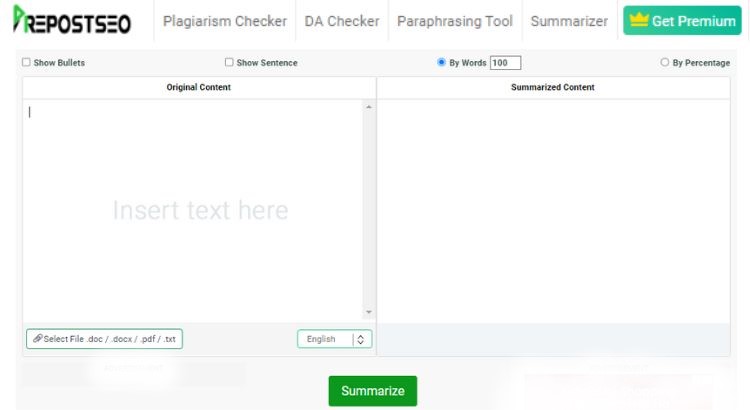 Type or copy and paste your content in the given box and then click on "Summarize".
 Features of PrePostSEO's Tools
75 + tools are genuinely favorable for students, writers and SEO experts. Following are the features of some tools.
Plagiarism Checker
• From this tool you can detect duplicate content from billions of websites and pages.
• It also awares you information about that from which particular page or website this material has been taken.
• This tool can be able to handle the traffic of more than 3000 users per day.
Article Rewriter
• This tool helps you to rewrite articles that are fresh and unique.
• Rewrite paragraph tool helps you to choose the synonyms that fits in the article.
• This tool supports numerous file formats and can upload any file.
• If a user wants so this tool can spin an article/content multiple times.
Grammar Checker
• It properly checks your data and highlights all the grammatical mistakes in the content/file.
• When you hover on that mistake so it also suggests to you the correct word that you wrote wrong.
• It removes your grammatical and punctuation mistakes and helps you to enhance the vocabulary.
Moreover, let's have a glimpse of some other PrePostSEO's tools!
Keyword Tools
These powerful and efficient keyword tools provide thorough keyword research and analysis for bloggers and SEO professionals.
Backlink Tools
These tools give you an exhaustive inside aspect of your link profile
Technical SEO Tools
If you are facing technical SEO issues then use these tools that help you to improve your website visibility in Google.
Website Management Tools
If you are intensely to get more traffic and enhance your website performance, use these tools and comprehensive analysis of your web.
Website Tracking Tools
These tools help you to check domain and page authority, measure and keep track of your website performance.
Domain Tools
A range of these domain tools helps you to detect domain age, DNS record and expired domain etc.
Image Editing Tools
All essential items which are required for an image editing are available in one place like favicon, resize picture and compress an image etc.
4 Most Popular Tools of PrePostSEO
As you know that Prepostseo's has a lot of super amazing tools that are quite helpful for teachers, bloggers and SEO experts but its 4 tools are most popular and millions of users recommend these tools to solve the issues of your site. These four tools are!
• Plagiarism Checker
• DA and PA Checker
• Paraphrasing Tool
• Text Summarizer
How Can You use PrePostSEO?
There are many appropriate methods of using prepostseo. You can use it on any website easily and also you can download its app through the play store. Prepostseo is equally compatible with computers and smartphones. It saves your time and you can be able to do your work smartly.
Is PrePostSEO Free?
Prepostseo's tools are totally free but some of its tools are restricted to search on a word limit like plagiarism checker tool is restricted to 1000 words per search.
So, in this situation you don't need to be worried. You can purchase premium plans that are not too expensive; anyone can easily afford these packages. These pricing plans are based on a monthly and yearly basis. From these paid plans you will get more data and features.
Prepostseo offers two plans. You can choose any plan that is suitable for your needs.
Monthly Basis
On a monthly basis you can enjoy these plans!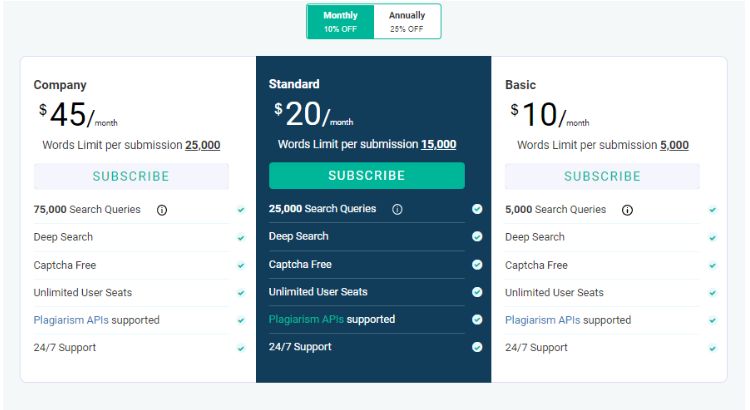 • The basic plan cost 10$ (5000 word limit per query)
• The standard plan cost 20$ (15000 word limit per query)
• The company plan cost 45$ (25000 word limit per query)
Yearly Basis
On a yearly basis you can enjoy these plans!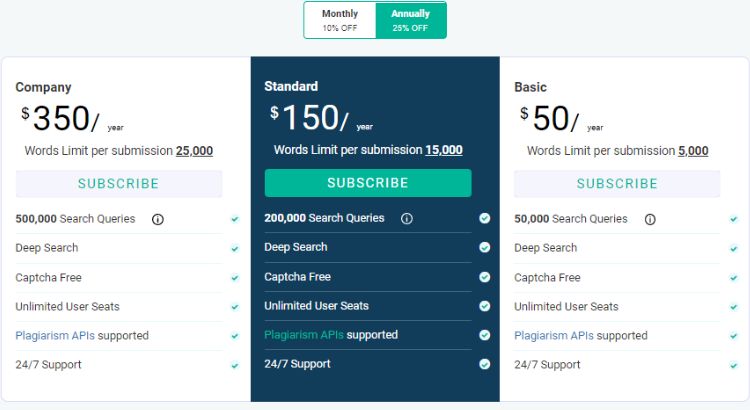 • The basic plan cost 50$ (5000 word limit per query)
• The standard plan cost 150$ (15000 word limit per query)
• The company plan cost 350$ (25000 word limit per query)
PrePostSEO Discounts
If you select any plan so you will get these super discounts!
• 10% off on monthly plans
• 25% off on yearly plans
Premium Plan Features
• No Ads
• 10× Faster
• No captcha
• 24/7 support
• Multiple file uploads
• No words limits
• Advanced plagiarism detection
• Free grammar checker
• Chrome extension
And much more!
User Interface
The interface of an energy tool is really important because it defines the interaction of the tool among us. An easy to use interface increases the chance of getting a vital experience. When you open it's website it's quite easy to use plenty of tools that are listed on this page.
Chrome extension
Prepostseo chrome extension is completely free and allows you to quickly perform numerous SEO functions in just one click. You don't need to open any website, you can use it directly as it is a great package under one extension.
Wrapping up
According to my opinion, Prepostseo is an ideal app along with 75+ free SEO tools and all tools are easy to use and with a lot of features. Prepostseo is not for technical experts only but everyone can easily use it.
In this technical modern world, everyone desires to do work smartly with their hectic routine and I think it's possible due to this tool.
As a content writer, unique and quality content matters a lot so if you are worried about that your content is plagiarized or not and is there any grammatical mistakes or not in your content so it's grammar checker tool will highlight all your grammatical errors in just few minutes and also suggest you the correct word.
I highly recommend it because in my opinion it is the best platform as it contains many tools in one app. You can use its tools totally free but if you want to get more features and benefits you can also get the premium plans that are affordable for anyone.
In short, for students, bloggers, webmasters and SEO experts prepostseo is advantageous as it saves the time and energy and you can be able to do a quality work. Its tools can perform its services in different languages. I hope this information will help you to identify whethers Prepostseo is worthy or not !